Cisco asav
From Datateknik
ASA-V
Installion
Var noga med vmware versioner:
Fungerar på följande:

Fungerar på Vmware Workstation 12
ASAv 9.8(1)7 på ESXi 6.0.0 (Build 3620759) (alias 6.0 Update 2)

Borde fungera på ESXI 6.0 men EJ högre enligt dokumentation.
version installerad:
ASA-V 981 unlicensed bild finns längst ner på sidan vilka features som den innehåller.
Limiterad till 100kb throughput pga ingen license.

How to för vmware workstation 12: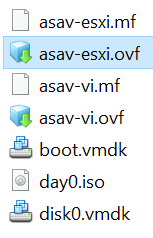 Ladda ner .zip fil med filerna enligt bild ovan:
högerklicka på asav-esxi-ovf och välj "Open with VMware Workstation"
högerklicka på VM och klicka settings för att kunna ändra hårdvara VMen får.
Högerklicka på VM och klicka Power > Start up Guest för att boota.
Den behöver ändra lite inställningar vid första uppstart, så den kommer att vilja omboota 2st gånger, få inte panik.
ASA-V version